Creative Agni's FREE Gamification of Trainings Primer (GTP) Online Workshop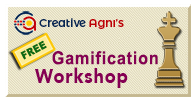 (Registration is FREE for this Workshop. If you'd like to attend, please read the details, then click the red link below to complete the registration form.)
| | |
| --- | --- |
| Date: | September 27, 2020 (Sunday) |
| Time: | 10 AM |
| Duration: | 3 hours |
| Venue: | The Workshop shall be held online through Zoom. The Invite shall reach you by September 25 (Friday.) |
| Inquiry email: | Write to us at: |
Please note that due to limited number of seats the invites shall be sent out on First-come-First-served basis.

Participants' Views / Testimonials of the Gamification of Trainings Online workshop conducted on September 27, 2020.




"It was a wonderful overview session on Gamification. The concepts were put in the simplest of forms and were easy to digest.

I look forward to many more such interactive sessions from Creative Agni."

Bhanu Malhotra, Lead Experience Architect,
United Nations Development Program (UNDP), New Delhi.




---




"It was a pleasure being a part of the session and great to learn how gamification can be effectively used in e-Learning.

It was great to learn about the history of it and how it can be a double-edged sword if not employed well."

Sandeep Koul, Training Lead & Manager Instructional Design,
EVC Ventures, Gurgaon




---




"It was a nice workshop, explaining clearly what gamification is. Also, how to use, and not to complicate gamification. "

Malvika Malhotra, Training Specialist,
Valvoline Lubricants, Gurgaon.




---




"Thanks for organizing this workshop. This session gave me an entirely new perspective about gamification. Your ice-breaking techniques in between the session were amazing."

Manish Kumar, Instructional Designer,
FCS Software Solutions Ltd., Noida.




---




"Excellent workshop and great fun. Thank you for organizing it. I enjoyed this workshop for interacting with the mentor and professionals, who all have the same interest in gamification."

Renuka Shakya, Learning Designer,
United Nations Development Program (UNDP), New Delhi.




---



Workshop Brief:
Each decade has its learning/training buzzword. The eighties had the TPs, the nineties found the PPTs and elearning; online courses captured our imagination in the two-thousands - and throughout the past decade, the word that's driven the learning and training community crazy is GAMIFICATION.
This workshop will help you figure out what exactly gamification is and why it's such a rage.
Important Note:
This online workshop shall require your video and audio presence. The workshop shall emulate the contact version of the workshop conducted in Noida, and will be different only in that the 3-hour session will be conducted through Zoom. The invites will be sent out to 12 prospective participants on first-come-first-served basis.
Conducted By:
Ranjeet Anand (B.Tech., IIT-Varanasi;  MBA, FMS-Delhi)
  - Principal Consultant, Learning Technologies, Creative Agni Consulting
  - Mobile Games Producer – Innoken Games
  - Mentor of Creative Agni's REDAC Course
  - Ex-Technical Architect of Wavelength's Online Courses
  - Ex-Chief Architect (Mobile Solutions) at Interra IT - an SEI CMM Level 5 company.
Ranjeet has about two decades of experience in both eLearning and Gaming Technologies. He also conducts Creative Agni's REDAC course. (Read the views of Creative Agni's REDAC course participants here.)

Who Should Attend?
Training, eLearning and Management Professionals who:

want to get a clear, uncluttered understanding of gamification.
would like to explore gamification as a strategy to enrich their learning/training experiences.




Objectives of the Workshop:
This Workshop will:
Provide a clear understanding of gamification - the what and why of it.
Differentiate between toys, games, serious games, and gamification.

Explain how gamification makes training programs more interesting and effective.
The Content Outline for the GTP Workshop:
Games vs. Gamification - What is the Difference?
Shhh...Remember, kids play with toys, adults play games!
The Psychology of Gamification and the Instructional Design Connection.
The Biology and Chemistry of Gamification.
Game Thinking and the Process of Training Gamification.
Gamification is a double-edged sword.
Question-Answer Session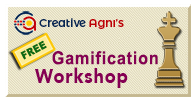 (Registration is FREE for this Workshop. If you'd like to attend, please read the details, then click the red link below to complete the registration form.)
Registrations for this workshop are now closed.
Please note that due to limited number of seats the invites shall be sent out on First-come-First-served basis.
Participants' Views for Ranjeet's Other Workshops.
"Really liked the approach of the session, wherein despite being from non-tech background, things were made very easy for me to understand, and then of course built to a more detailed level.
I also found Ranjeet to be a very good orator as he could use a variety of words to make the concepts sound not only very simple but interesting as well. Found Ranjeet a nice and humble human being as well. Not to forget the courtesies extended, which made me felt like home.
Grateful for the opportunity to be a part of the session. Thank you, Team Creative Agni."
- Dheeraj Arora,
Senior Trainer - Learning & Development,
Hero Mindmine, New Delhi
---
"A well-designed and organized 3-hour workshop that forecasts the future of learning content development so brilliantly. I must call it a must-attend if you are anyhow connected to the learning content field or planning to, and are really concerned about how things will shape up in a year around or even earlier. In fact, it's already happening. Change has arrived.
Ranjeet was full of interesting facts, figures (and humor), and his way of delivering those is beyond any book. It is obvious that a lot of work and effort went into preparing the workshop content and presenting the insights. Kudos!
The interesting chit-chat with masala tea, candies, juice & snacks...just made the workshop livelier."
- Vaibhav Arya,
Lead Instructional Designer,
Albatros, Gurgaon (Gurugram) - Delhi NCR
---
"I found ReLP Program facilitated by Mr. Ranjeet Anand at Creative Agni very useful both in terms of its overall appeal and its focused emphasis on detailing the trends of 'eLearning vs Rapid eLearning', content authoring, and its future. I appreciate Ranjeet's in-depth and competitive knowledge on the content development subject that made the entire session very impressive and insightful for me. I look forward to joining a specialised Creative Agni certificate program in my core competency area shortly."
- Vinay Kesharwani,
Training Manager,
Wipro Infotech, New Delhi.
---
"Thank you for the opportunity to attend this Rapid eLearning workshop. I came with an idea to get basics of eLearning industry such as how it functions, scope for technical writers if they want to expand their horizons, what is the role of tools, and Ranjeet not only covered all these aspects in the workshop but added much more to it. He answered all the queries of the participants and kept session interactive as well. So thanks a lot to Ranjeet.
Looking forward to taking some certification courses from Creative Agni."
- Jigyasa Kulshreshtha,
Technical Writer,
R Systems, Noida. (Delhi NCR)
---
"First of all, thank you so much for this workshop.
I am glad I could be a part of this. My special thanks to Ranjeet. His knowledge and the way he explains things, helped me understand the concept of rapid e-learning. My perception of rapid e-learning was limited to tools but after attending this workshop so many doubts have been cleared.
I would like to attend these kinds of workshops again."
- Suchita Roy,
Instructional Designer,
Centum Learning, New Delhi
---
"It was my pleasure being a part of the workshop as it was not only informative but also a future vision towards the upcoming trends . I would really love to be a part of similar workshops in the future.
All the best."
- Reema Pahwa,
Center Manager & HOD Trainings,
US Education Resource Centre, Gurgaon (Gurugram) - Delhi NCR
---
Other Courses by Ranjeet Anand.