Creative Agni's FREE Emotional Intelligence Primer (EIP) Online Workshop
(Emotional Intelligence for Personal and Professional Growth.)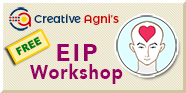 (A Free Online Workshop for the Evolved Professional)
(Conducted on August 08, 2021.)
| | |
| --- | --- |
| Date: | August 08, 2021 (Sunday) |
| Time: | 2:00 PM |
| Duration: | 3 hours (2 pm to 5 pm) |
| Venue: | The Workshop shall be held online through an interactive Zoom** session. The Invite confirming your place in the workshop will reach you by August 06, 2021 (Friday,) midnight. |
| Inquiry email: | Write to us at: |
Thanks for your interest in this workshop. Please follow the Creative Agni LinkedIn page for Future Announcements.
Workshop Brief:
Intelligence doesn't necessarily lead us to success. Oft-times those who are emotionally-savvy turn out to be the best leaders, managers, business-people...and even the best and the happiest employees.
Why?
Not because IQ doesn't matter - but because something else matters more!
There was a time when the sole measure of intelligence was our ability to do Math or to read, write, comprehend. In other words, intelligence was purely cognitive. But in 1989, Dr. Peter Salovey reviewed Howard Gardner's multiple intelligences, with Dr. John D. Mayer, and expanded upon the concept of Emotional Intelligence (first mentioned around 1965.) His work gained popularity when Daniel Goleman worked further upon it and wrote his paradigm-bending book, "Emotional Intelligence: Why It Can Matter More Than IQ." Since then the discussion on EI had been warming up.
This workshop focuses on helping the participants become aware of what emotional intelligence is, helps them see if they possess all the five EI skills in adequate measure, and if not how it might be impacting their growth prospects.
Additional Note:
If you are in a Logico-creative field such as content creation, instructional design, teaching and training, publishing; it becomes extremely important for you to not only become aware of EI but also harness it, because for you it goes beyond influencing your inter-personal relationships and impacts your most important ability - the ability to create!
Conducted By:
Shafali R. Anand
Founder & Chief Envisionist
Creative Agni Consulting
Editor & Publisher - THE FOUNT.
Formerly, Chief Instructional Architect, Wavelength eLearning

(Shafali R. Anand writes, speaks, and conducts courses/training programs on Instructional Design, Creativity, and Cognitive Psychology Read the views of Creative Agni's course participants here.)

Who Should Attend?
Any skilled professional who figures that he or she is intelligent yet:

finds himself or herself stuck in a rut with interviews not working out.
feels stonewalled and finds his/her current situation at work claustrophobic.
feels that either the team or the boss or both don't understand him/her.
is constantly chided for "not listening," "not feeling," "not understanding" etc.

Objectives of the Workshop:
This Workshop will enable you to:
Determine what Emotional Intelligence is.
Determine the five main skills that make you Emotionally Intelligent.
Establish if the lack of / inadequacy in one or more of the EI skills could be hampering your growth and happiness.

The Content Outline for the EIP Workshop:
What is Emotional Intelligence?
The Science behind EI
The Benefits of Taking Control vs. Being Controlled.
Which of the 5 Skills you Lack?
The Bad News and the Good News
Question-Answer Session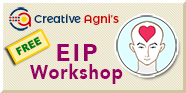 (A Free Online Workshop for the Evolved Professional)
(Registration is FREE for this Workshop. If you'd like to attend, please read the details, then click the red link below to complete the registration form.)
| | |
| --- | --- |
| Date: | August 08, 2021 (Sunday) |
| Time: | 2:00 PM |
| Duration: | 3 hours (2 pm to 5 pm) |
| Venue: | The Workshop shall be held online through an interactive Zoom** session. The Invite confirming your place in the workshop will reach you by August 06 (Friday,) midnight. |
| Inquiry email: | Write to us at: |
Thanks for your interest in this workshop. Please follow the Creative Agni LinkedIn page for Future Announcements.
Follow Creative Agni on LinkedIn To get regular updates on our Free Workshops and Certificate Courses click the "Follow" button below.


"The workshop on Emotional Intelligence happened right in time when i needed it the most. Thanks to Creative Agni for organizing such a workshop on this intense topic! The concept of "drishta" is a practical and tangible concept and identifying the trigger of emotion can be achieved with practice gradually.

Recognizing + Managing emotions = Emotional Intelligence

There have been numerous times when we find ourself in a blocked situation with no way around to come out. In such scenario, taking the Escapist way is no solution.

We need to remember that controlling emotions is a difficult task, yet it is not impossible to achieve!"

- Megha,
Instructional Designer,
Infopro Learning, Noida. (Delhi NCR)

---

"This was a totally engaging workshop.. Learning was happening for me on many different levels. I learned from Shafali's behavior as a human being. I'm very grateful. Thank you Shafali for your warm and encouraging training which you enlivened by many examples from a group rich with unidentified feelings and needs. You've drawn out from us something from deep inside of who we are and what we dream of.

Thank you (also) for keeping us focused when we strayed..!"

- Tarun Chudhary,
Leader – Sales & Business Development,
Meghdoot Infocom, New Delhi

---

"The 3 hour workshop definitely threw open a barrage of ideas on emotions and emotional intelligence.
Although time was a constraint and it wasn't practically possible to discuss the topic of emotional intelligence in detail within a time span of 3 hours, Shafali ensured that the fundamentals of emotional intelligence were covered in a very lucid manner.

The workshop was certainly interesting and insightful because Shafali shared anecdotes from her personal experiences that made the theories and fundamentals of emotional intelligence all the more relatable to me.

To sum up, after attending the workshop I feel enlightened and equipped to take on the emotional vicissitudes of life."

- Rajdeep Guha,
Content Manager,
CL Educate Pvt. Ltd (Career Launcher), New Delhi

---
EIP Workshop
Participants' Views
"Thanks a lot, Shaifali; the techniques I have learnt in this session are powerful and helpful. Your teachings are way above any other trainer I have seen in my life, I have attended few workshops for Emotional Intelligence, but after your session, I can apply the principles in real life very quickly.
I can afford to miss any special event in my life, but I can't afford to miss your session. Thanks Again for awesome session."
- Vikrant Dangi,
Sr. Content Development Specialist,
SE2 India,
Gurugram (Gurgaon), Delhi NCR
---
"We cherish meeting our childhood friends, and I knew I would feel the same when I attended this workshop. Such is the aura of Shafali, that you feel energized when you think of the facilitator who is going to deliver the session. Emotional Intelligence, I believe, is something that makes organizations work today. The idea with which Shafali designs her workshops, is "what is the need of tomorrow - for an individual's professional growth." So being an L&D professional with 8 years of experience, I would recommend that people from all the profiles who aspire for growth at work, should attend this workshop because "Managing Emotions is a Science" and Shafali always does justice to things that need logic.
Thanks Shafali for making me part of this workshop."
- Akanksha Sharma,
Zonal Training Manager,
Sulekha.com, Noida. (Delhi NCR)
---
"Attended Shafali's workshop on emotional intelligence yesterday. Some people understand concepts well, while some can explain well. Shafali does both well. I have read articles on emotional intelligence, but in this workshop I began to understand it. Shafali breaks concepts into actionable steps, and always addresses the 'what's in it for me'. That's why there is learning. She can address all queries, which shows the effort she puts into researching a topic before presenting it.
An amazing workshop; 3 hours fruitfully spent on a Sunday afternoon. Looking forward to more such workshops. "
- Moumita Mukherjee,
Sr. Instructional Designer,
Orange Business Services, Gurgaon (Gurugram) - Delhi NCR
---
"I found this workshop really interesting and informative. Your experience and knowledge towards this topic shows how much you value your principles and habits and how you want everyone to benefit from them, so that they may help anyone to deal with their emotional outbursts. The tips and tricks which I learnt from your workshop will surely help me with my emotional well-being."
- Kriti Ajmani,
Project Lead,
US Tech Solutions, Noida. (Delhi NCR)
---
"This Emotional Intelligence workshop was able to give me a different perspective for looking at (and helping to manage) some real issues that are prevailing in professional and personal lives of people. It is not only because the workshop was done with a different perspective, but also the level of engagement and interest that Shafali is capable of creating during the session. "
- Rakesh Kathuria,
Instructional Designer,
International SOS, New Delhi
---
"I would like to extend my gratitude for inviting me to this wonderful workshop. This workshop gave me a lot of 'food for thought' and has actually made me more self-aware. I am practising to give myself time between triggers and the reaction that happens and move towards being Emotionally Intelligent.
I always have been a fan of your facilitation and the kind of stories you add while delivering to bring the content to life. Thank you for sharing the knowledge with us."
- Reshma Ailani,
Training & Academy Manager,
Barclays India, Noida. (Delhi NCR)
---
" Thank you for the free workshop on EI. The 3 hour workshop made us aware of the difference between being emotional and being emotionally intelligent. The 5 skills required to become emotionally intelligent was the key takeaway from the workshop. (Although can't leave aside the 'Drishta' concept).The key takeaways have to be put into practice along with the 'Drishta' concept for a fruitful outcome.
It's important to realize that:
Being emotionally weak may destroy you,
Being emotionally strong 'may' make you emotionless, but
Being emotionally intelligent will certainly lead you to a healthy and a prosperous life.
Hope you make a series of EI workshops and spread this awareness of becoming Emotionally Intelligent and its importance in our personal and professional life. I am sure your other EI workshops will or might be a continuation of this workshop, which I would love to attend and thank you for sharing your experience and knowledge."
- Gaurav Monga,
Independent Soft-skills Trainer,
Mumbai.
---
"This workshop will give you an insight on "Emotional Intelligence" and how it can be consciously practiced at work and in your personal lives. For those of us who think being emotional is a flaw, this workshop will make you realize that it's your biggest strength, only if you learn to channel your energy and thoughts in the right direction. This workshop is more like an open discussion where you get to see people share their own stories and learn from them.
I would recommend this workshop to everyone, whether you believe you have an emotional side or not, because it will give you a better perspective about life which I believe has a lot to do with your personal and professional growth. Moreover, it is an absolute delight to hear from Shafali, you rarely come across such amazing storytellers who compel you to create nothing but the best version of yourself."
- Neetee Saharia,
Business Analyst,
Deliotte India, Gurugram (Gurgaon), -Delhi NCR
---