We've just announced the Cartooning for Trainers workshop that will be conducted online on August 02, 2021 (Sunday,) and I'm thrilled!
And there are many reasons why I'm so excited about it. Here are a few:
1. This is the debut session of this Free workshop, which means I've designed it from scratch, and for a passionate instructional designer there's nothing more exhilarating than designing a learning experience. Is there?
2. These 3-hour workshops are super-exciting to design, because you are trying to squeeze as much learning as you can into a 3-hour container, without sacrificing the learning effectiveness. The daredevil drivers of Delhi could liken it to the thrill they experience when they are able to maneuver their bikes or cars through the tiniest opening in the congestion of the traffic without any mishap.
3. I love cartoons and I love the energy they bring to my training sessions. The beauty of cartoons is that they are expressive, malleable, changeable, and tremendously efficient. All you do is draw a few simple lines, even squiggles, and the human brain transforms them into anything you want them to be. They become people, animals, houses, cars, trees! You keep tweaking those lines, and you can make them do whatever you want.
Other than these top three reasons there are many more, which I'll share with you when I meet you in a couple of weeks.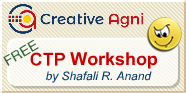 If you think you can join me for three hours on August 2, Sunday, then please register for it…
because Cartoons? They are worth it!